See also: Horus of the Black Flame, Galaxy Evol Sphere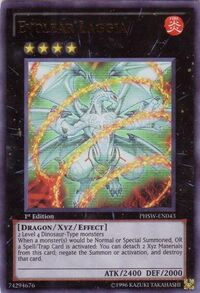 Evolzar Laggia
Rank
4
Type
Dragon
Attribute
Fire
ATK
2400
DEF
2000
Effect
2 Level 4 Dinosaur-Type monsters

When a monster(s) would be Normal or Special Summoned, OR a Spell/Trap Card is activated: You can detach 2 Xyz Materials from this card; negate the Summon or activation, and destroy that card.
Evolzar Laggia is one of the best Xyz Monster in the whole game! It's summoning methods are easy and its effect is very good.
Summoning Method: There are 2 alternative ways to summon this card:
In a pure Evol deck, by using Evoltile Najasho and Evo-Force to summon 2 Level 4 'Evolsaur' Monsters simultaneously
The other way is to use the famous 'Rescue Rabbit' and its effect to simply summon 2 Normal Dinosaur-Type Monsters.
Effect:
The good side of the effect is that it can negate almost everything, because it's a Quick effect which is Spell Speed 2.
The bad side of it is that it wasts all of the Xyz Materials at once, but this can be fixed by using a card such as Overlay Regenerate. It also can't negate Counter Traps which are Spell Speed 3.